Autumn is one of my favorite times of the year. The sweater weather, warm lattes, crisp and colorful leaves… and of course the fashion! Although many people may believe that warm weather means more options, I highly disagree. Today, I will be sharing with you a few of my favorite trends and essentials for Autumn.
1.Suede skirts
Suede Skirts are the skirt this season. They are very different from any type of skirt I have come across lately. A suede skirt (especially in a camel color like the one above!) makes for a very versatile piece to have in your closet. It can be paired with so many different things, and can even transition into winter and spring! This is definitely on my wishlist! Photo credit here.
2. Boots
Boots are definitely one of my fall essentials. I highly recommend investing when it comes to boots, because they can last so long. I have had pairs that have lasted me a number of years. When it comes to choosing a boot, I personally prefer a material that is resistant to any kind of weather and a color that can match any outfit, but it is up to you and your personal preference. Photo credit and find this pair here.
3. Button Down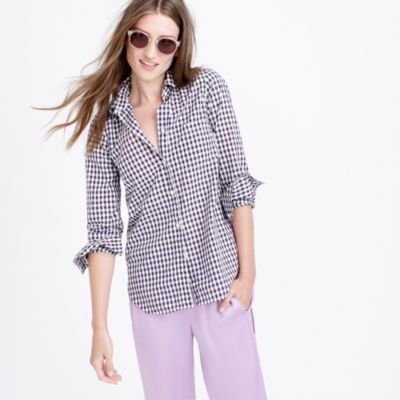 I love a good button down for any season, but for Autumn, try going with a printed button down. It can be bold or minimalist, but stepping out of the safety of a solid colored button down can bring a whole new life to your outfit. I love this gingham printed one from J.Crew. Photo credit here.
4. Sweater
Sweaters are obviously an essential for "sweater weather"! Sweaters are great because there is so much variety in the options available that it is practically impossible not to find one that suits your style! I personally love the traditional feel of this taupe cable-knit sweater, and the color is absolutely gorgeous for autumn. The limit truly does not exist when it comes to possible outfits with sweaters. Photo credit here.
5. Jeans
Jeans are always essential, but this season, try to switch up the oh-so-popular light wash ripped jeans to this burgundy pair. Working with colored denim can be tricky, but if done right, the outfit can turn out effortless and beautiful. Burgundy is one of my favorite colors this season, and from what I have seen, is quite popular. Photo credit here.
These 5 picks will overflow my closet this season! I hope I was able to inspire your autumn closets! Remember, it is always good to step outside of the box when it comes to fashion. If you would like to see how I would style any of these pieces, let me know in the comments!
Xoxo,
Marissa